Esquire: October, 1965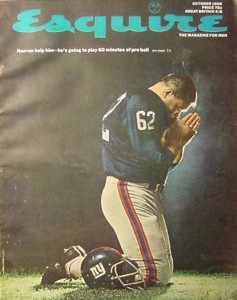 Great 1965 Esquire Footbal Issue with Raquel Welch pictorial
COVER: Heaven help him: He's going to play 60 minutes of pro ball. See page 71. Darrell Dess, of the New York Giants.
[SEE PHOTOS FROM INSIDE THIS ISSUE, BELOW!]
PICTURED ESSAYS:
RAQUEL WELCH: THE DEFINITIVE CHICKIE … She knows who's going to swallow her up … Bruce Jay Friedman. [Absolutely gorgeous and famous photos and great quotes — SEE BELOW!]
STATEN ISLAND, I LOVE YOU! … Visualized by Dinnerstein, Silverman and Levine; evoked by Dawn Powell.
FOOTBALL:
THE AMERICAN WAR GAME … Contact, violence … choose your terms and make them stronger … Thomas B. Morgan.
THE FIFTEEN DIRTIEST PLAYS … Another game: spotting the illegal moves in this painting by James Barkley.
THIS STUFF IS TO KEEP HIM FROM GETTING HURT . . . IT DOESN'T ALWAYS WORK … But this is his life.
TOUGH GUYS … Four givers and four receivers; the receivers seem the more cheerful.
THE TOUGHEST CUSTOMERS … They neither give nor receive, but take it for The Boys … Ovid Demaris.
ARTICLES:
HER MAJESTY'S INCORRUPTIBLE, IMPERTURRABLE, INCOMPARABLE JUDGES … Life at court … Sybille Bedford.
MY FATHER'S LETTERS: ADVICE WITHOUT CONSENT … He widened many worlds, checked hers … Frances Lanahan.
JOHN V. LINDSAY: LESS THAN MEETS THE EYE … A candidate for Mayor of New York City … Noel E. Parmentel, Jr.
HARVARD S DEGREE IN THE HIGHER MATERIALISM … The M.B.A.'s play it cool, but personally … Spencer Klaw.
THE YIDDISHIZATION OF AMERICAN HUMOR … In the beginning was krechst and oi from there … Wallace Markfield.
FOR SUKARNO SO LOVES THE WORLD … He tells it modestly, with a touch of blarney even, to … Cindy Adams.
THE PLAY: ORANGE SOUFFLE … Two characters in one act: with unequal billing, there has to be a coup … Saul Bellow.
FICTION:
MR. SCHWARTZ … How sharp the point of this remembrance is! … Donald Hall.
THE FRIGHT OF MRS. YEAGER… It's distressing for a neighbor to look you in the mirror … James Leo Herlihy.
PERSPECTIVE: ADVERSARIA … The Staff at last has a Sound & Fury of its üwn, and, emulating our readers, it ends with a sniff.
Comments are closed