Vogue: February, 1967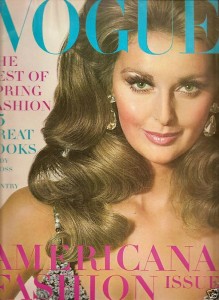 Vogue
February 1, 1967
Americana Fashion Issue
Cover    Samantha Jones wears layered navy silk chiffon floor-length dress jewelled with flowers at the plunging neckline – by George Halley, Schreiner rhinestone drop earrings. Photograph by Irving Penn.
Photography     David Bailey    Cecil Beaton    Horst    Penati   Irving Penn    Bert Stern
Fashion    The Best of Spring, U.S.A. – 33 pages of fashions photographed by Irving Penn
The New Proportions…quick chopped shapes…Navy blue and white banding together… All-Out Allure at Night…The New Small coat…Norell's belted waist…the wrapped waist…pale coatdresses…The v-neck for day, for dinner…the belt takes hold…Black and White tweeds…Black and White printed wool…abstract flowers…The Best in boldness…geometrics loud and clear…knits – sharp and turtlenecked in snap colours…Leopard Spots printed on cottons…Plaids with the colour beat…electronic pink- chrome yellow…Norell's Double-Breasted Coats… The Side-closed suit jackets…More…More…More…
The Best of Spring in U.S. Fashion….14 fabulous fashion pages photographed by Bert Stern…shirtdressing, suits, dresses, jumpers, flying coat…
Spring To…10 great Looks to wear this minute – photographed by Penati on 8 pages at the recent exhibition of sculpture by Tony Smith at the Wadsworth Antheneum in Hartford – The Short Suit…The Short and Long Evening Dress…The Cropped-Jacket Dress…The Dirndl-skirt suit…the Shirt-jacket suit…
Vogue's Own Boutique: Los Angeles: Boutiqueing with the Sparklers…Sonny and Cher…Tina Sinatra…Mirielle Mathieu…Elizabeth Ashley…Susannah York…Wendy Wagner…Sally Hanson…Portland Mason…Joanne Woodward…Hollywood – home of the stars, celeb heaven – now becoming a boutique bunny's heaven too…just some of the sparkly names on their rounds….Palm Beach: Worth Avenue has been called the most beautiful place in the world to shop – Vogue's Boutique visits some of the best.
Beauty:  
America, The Beautifuls…two faces – uncommon contrasts – Geraldine Chaplin…Candice Bergen…Streaked hair where the Highlights play…Beauty Hybrids –Double Efficient…The Trend,  one beauty product is deliberately crossed with another to broaden its work-scope. Double its benefits. The Nail enamel that's much tougher than it looks…Best Double-Benifitter Around – Moisturizing body lotion that scents the body as well…More about the new beauty helpers with  two-track minds. 
Features:  Joe Namath– The Super Swinger of the football Jets and his $400,000 bonus arm by Barbara Long – photograph by Cecil Beaton…
The Power Set- The Fragile But Dominating Women of Viet Nam by Pulitzer Prize winning journalist, Frances FitzGerald…
A Garden of American History: At The White House by Valentine Lawford- beautifully photographed by Horst – Presidential interest in gardening reaches the roots of the Presidency…
Movement In Art "The Artist of Mobility…converts the art object into the art event" by Harold Rosenberg.
Regular departments as well.
224 pages.