Vogue: January, 1971 – Lauren Hutton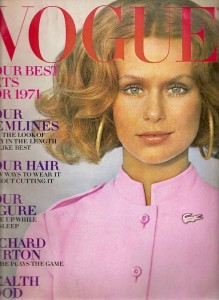 Cover     Lauren Hutton wears David Chrystal's pink super-knit dress photographed by Arnaud de Rosnay
Photography    Richard Avedon    Cecil Beaton    Irving Penn    Penati    Arnaud de Rosnay   Horst    Lord Snowdon    JP Zachariasen
Personalities: Jean Shrimpton; Pilar Crespi; Catherine Deneuve; Penelope Tree; Karen Graham; Lauren Hutton; Marisa Berenson; Ann Turkel; Beverly Johnson; Robin Hambro
Vogue's Eye View    Your Best Bets '71   the looks that will take you where you're going
Fashion
Bared shoulders-covered arms…small prints for spring…the chemise…three lengths for evening… the straight tweed coat…lacing and grommets…slashed jumper…the caped coat…wedge soles…gladiator legs…The Long Black Dress…the little dress- short and happy…lacing, bias, short dresses…gladiator-leg pumps…pants – shorts-knickers…the midi chemise…the zipped chemise…the jumpsuit…knits…zips…small-jacket suits…
Catherine Deneuve    Prints with Sable 
Shrimpton    The Chemise 
Penelope Tree     Jumpsuits    Everyone's fashion at everyone's price – worn on four pages by Penelope Tree in Zambia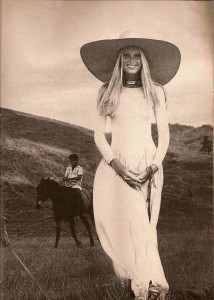 Fiji      South Pacific Scene for Sun-Going Clothes bold Tapa prints…bare midriffs…full long cotton skirts, short tops…soft, long, billowy printed dresses…caftans…long and slashed slinky dressing…printed bikinis with long skirts for wrapping…little nothings for the beach…fabulous soft and easy long day dresses…
Vogue's Boutique
Jade Hobson…Beverly Johnson…Isabelle Weingarten…Gwen Mazer…Marny Vargas…Robin Hambro all like the Five S's (shirt, sweater set, suede, shorts, shoulder-sack bag)
Victoria Fensterer…Chantal Souers…like romance – long and pretty ginghams, prints, and organza dressing.
What's in Fashion in 1971?
Vogue's Boutique asks Betsy Johnson…Halston…Emmanuelle Khanh…Yves Saint Laurent…Zandra Rhodes…Jean Muir…Valentino…Sonia Rykiel…Stephen Burrows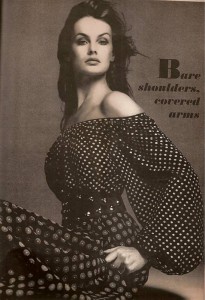 Beauty
Looks to Look for in '71
Features:
The Last Game Richard Burton Lost. By Richard Burton – photographs by Lord Snowdon
People Are Talking About Keith Baxter…Dominique Sanda…Randy Newman…Elton John…Robert Ryman…Philip Glass…Paul Morrissey…
Saved – Violence Redeemed by Elizabeth Hardwick
Gertrude Stein still leading, her eye for art, her gift of word. By Sir Francis Rose
Picasso "one whom some certainly follow" By Gertrude Stein – portrait by Cecil Beaton
See the amazing future beyond television, of video machines by Howard Junker
Vogue Fashion In Living
Plastics    Shaping the News
Health Food    Why… and Why Not
New Sense of Living '71     Mr. and Mrs. Giora Novak's inventive three-dome house in Florida    Photographs  by Horst.
Men In Vogue    A Gentleman's Year…Alan Duddle goes nautical aboard "Stitch in Time"…Tommy Nutter…the car – Stutz Blackhawk.
CoverArt# vog197101,  Last sold $50, Available Good condition, Include CoverArt# with offers to sales@coverart.com