House Beautiful Magazine – An american classic
House Beautiful Magazine is listed on CoverArt.com under American Classics for one simple reason. A continuous 100+ years of effective and artistic cover art design which alongside their editorial and writing choices in keeping this magazine #1 in its genre.  Except for a few brief design hiccups during the 1970's when just about every magazine was doing its best to mimic a cosmopolitan cover and cram as much information as they could in to their new smaller formats.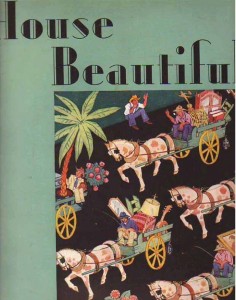 House Beautiful formerly known as "The" house beautiful before their own social networking moment maintained some the most impressive and steady cover designs of any American magazine.  Even during the 1930s when someone at HB was trying to art deco his  competition and came up with the following designs that lasted just 12 months.
What a waste of wonderful Art deco images reduced nearly 50% in order to display a large blank solid area.  It is amazing that the thought of putting article information in all this empty space never even occurred to the designers artistic mindset back in the 1930's – boy have times changed.  Today House Beautifull maintains a modern and wonderful cover design that uses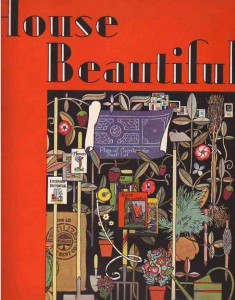 intricately designed photo shoots combined with changing color themes on a monthly basis, a standard design theme that permeates many publications today.