Calling all Girls: Archive and Gallery
Calling all Girls Magazine was the "young girls" compact (digest size) magazine of YM. YM published multiple brands geared to teen girls for 72 years. Being the second oldest girls' magazine just behind Seventeen in the United States. Calling All Girls maintained some of the most wonderful cover art illustration during the 1960′s at a time that most magazines were switching over to photographic covers.
ROLL cursor OVER photos for Price and Issue Information.  Available Issues will have a $dollar value, Click on image for more information and possible additional images.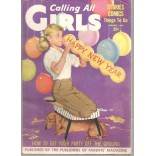 cag196001
Calling All Girls magazine in very good condition